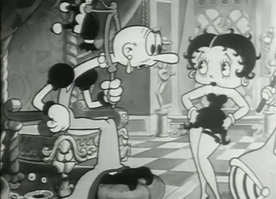 "Am I the fairest in the land, am I the fairest in the land!" 
- Stepmama 
Betty Boop is Snow White is a 1933 absurd Betty Boop Cartoon by the Fleischer Brothers starring Mea Questel as Betty and the Queen based on the fairy tale . The short incorpirates blues music. 
Betty Boop is brought to the forest to be executed by her stepmama the Queen for being the fairest in the land. The clown and cat who are to execute her acidently freeze her in ice where she is carried away by seven dwarves. The Stepmama turns into a witch and turns the clown into a ghost while he sings the St. James Infirmary Blues . The Stepmama turns into a dragon and is turned inside out as Betty is freed from the frozen coffin and dances of with the clown and the cat. 
Watch the cartoon: http://youtu.be/Qq17wODD88M
Ad blocker interference detected!
Wikia is a free-to-use site that makes money from advertising. We have a modified experience for viewers using ad blockers

Wikia is not accessible if you've made further modifications. Remove the custom ad blocker rule(s) and the page will load as expected.